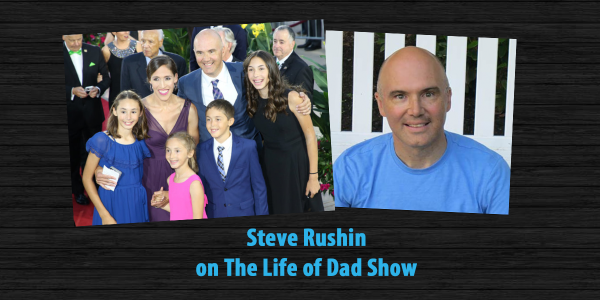 Steve Rushin is this week's guest on The Life of Dad Show.
On The Show
Steve Rushin talks with The Life of Dad Show hosts, Art Eddy and Jon Finkel about his latest book, Sting-Ray Afternoons, his love of sports and the certain memories that he will always remember that combined his career and sports. Steve then chats with the guys about fatherhood, balancing work and family and so much more.
Steve then answers the Life of Dad Quick Five.

About Steve Rushin
A four-time finalist for the National Magazine Award, Rushin has had his work anthologized in The Best American Sports Writing (in three consecutive decades), The Best American Travel Writing and The Best American Magazine Writing collections. In 2006, he was named the National Sportswriter of the Year by the National Sportswriters and Sportscasters Association.
His first book, Road Swing, published in 1998, was named one of the "Best Books of the Year" by Publisher's Weekly and one of the Top 100 Sports Books of All Time" by Sports Illustrated. A collection of his sports and travel writing—The Caddie Was a Reindeer–was named a semifinalist for the Thurber Prize for American Humor. In The 34-Ton Bat, Rushin tells the story of baseball and America through 375 objects of the game, including beer cups, bats, and bobblehead dolls. The book was praised by the Wall Street Journal: "The game will never quite seem the same after reading Mr. Rushin's book."
Rushin is a 1984 graduate of Bloomington Kennedy High School and a 1988 graduate of Marquette University, which awarded him an honorary doctor of letters in 2007.
He and his wife, Rebecca Lobo, have four children and live in Connecticut.
Follow Steve on Twitter at @SteveRushin and go to steverushin.com to pick up his books!
About The Life of Dad Show
The Life of Dad Show is the multimedia flagship property of the world's largest network for fathers. With 600,000 downloads of its popular podcast and 300,000+ viewers of the Facebook Live show since 2017, The Life of Dad Show has gathered advice, stories and strategies from an unparalleled list of household names, from Shaq to Jim Gaffigan, to Michael Strahan and Mark Hamill, each offering a glimpse into their personal life as a dad. The show airs Mondays and Wednesdays on Facebook Live, YouTube and Instagram TV. The podcast comes out weekly.
Subscribe to The Life of Dad Show on iTunes and leave a review and you could win a Life of Dad prize pack.