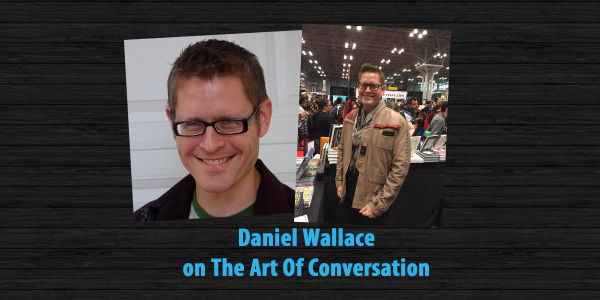 Daniel Wallace is this week's guest on The Art Of Conversation Podcast.
On The Show
Daniel Wallace talks with The Art Of Conversation Podcast host, Art Eddy about his new Star Wars book, Star Wars: Smuggler's Guide, the type of research he did for his latest book in this fantastic series and how Star Wars has influenced his career. Daniel shares his thoughts on fatherhood and the values he looks to instill into his kids.
Daniel also answers the Life of Dad Quick Five.
About Daniel Wallace
Daniel Wallace is the New York Times bestselling author of Star Wars: The New Essential Guide to Characters as well as a dozen more books that explore the underpinnings of the Star Wars universe, such as Star Wars: The New Essential Chronology and The Complete Star Wars Encyclopedia. He is a regular contributor to Star Wars Insider magazine and assembled the questions used in the Star Wars Trivial Pursuit game. In addition to his contributions to the galaxy far, far away, he has written for universes including Indiana Jones, Smallville, DC Comics, and Marvel Comics, with books including The Marvel Encyclopedia, The DC Comics Encyclopedia, and The Art of Superman Returns.
Follow Daniel Wallace on Twitter at @danwall88 and purchase up his new book, Star Wars: Smuggler's Guide wherever books are sold.
About Star Wars: Smuggler's Guide
Recovered from a strongbox on the Millennium Falcon, Star Wars: Smuggler's Guide started as a simple logbook with a piece of valuable information. But it was soon stolen, traded, and smuggled around the outer rim and shady ports, through the hands of such notorious characters as Maz Kanata, Hondo Ohnaka, Drydon Vos, and Lando Calrissian, until it ultimately ended up in the hands of the outlaw Han Solo. With each pirate, thief, gambler, and criminal who took possession of the book, new insights and details were added, creating a coveted collection of hidden treasure locations, advice, and hard-earned data. A must-have in-world handbook to the galaxy's underworld, Star Wars: Smuggler's Guide is a crucial and hugely entertaining read for fans seeking a deeper understanding of the saga.
About The Art Of Conversation Podcast
If you are looking for more of these types of podcasts check out the rest of the The Art Of Conversation Podcast
We are pleased to have another podcast here at Life of Dad, and we focus the show on dad writers. Each week, host Art Eddy showcases a father in the dad community. The topics range from sports to movies to comics to video games to technology to parenthood to anything that comes up, really. Absolutely nothing is off-limits on The Art Of Conversation Podcast. Enjoy! Find us on iTunes, Google Play, Stitcher Radio and iHeartRadio.