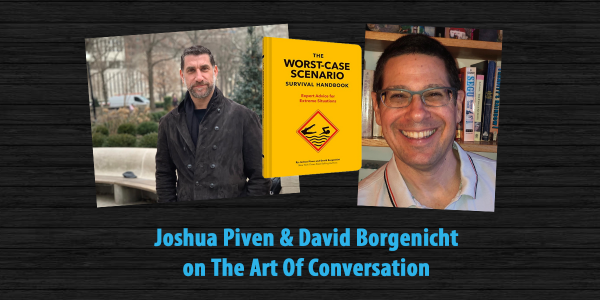 Joshua Piven and David Borgenicht are this week's guests on The Art Of Conversation Podcast.
On The Show
Joshua Piven and David Borgenicht talk with The Art Of Conversation Podcast host, Art Eddy about their most recent version of their successful book called Worst Case Scenario and what fans of the book can expect from this updated version. The guys also talk about fatherhood and the Worst Case Scenario exhibits that will be touring the country. Joshua and David also answer the Life of Dad Quick Five.
About Joshua Piven and David Borgenicht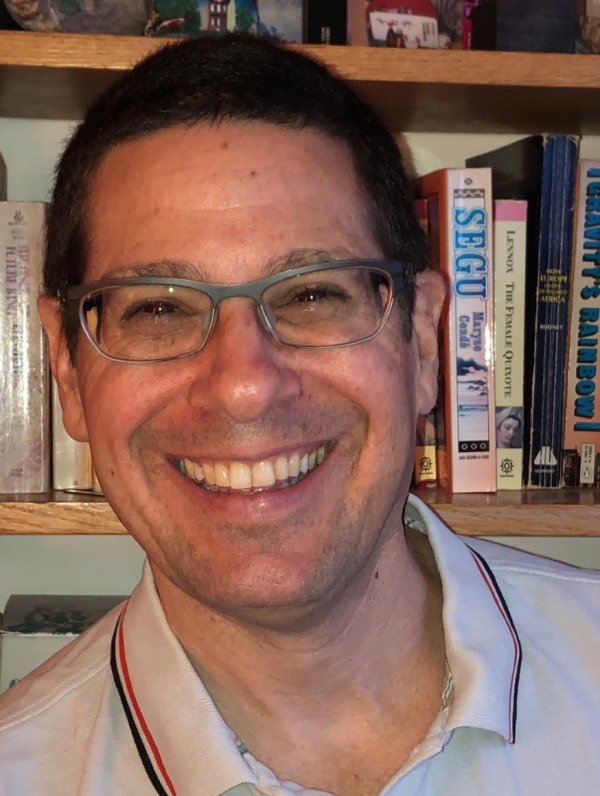 Joshua Piven has been chased by knife-wielding motorcycle bandits (he escaped); stranded on a chairlift during a howling blizzard (he was rescued); and once had a kidney stone (he passed it). He lives in Philadelphia.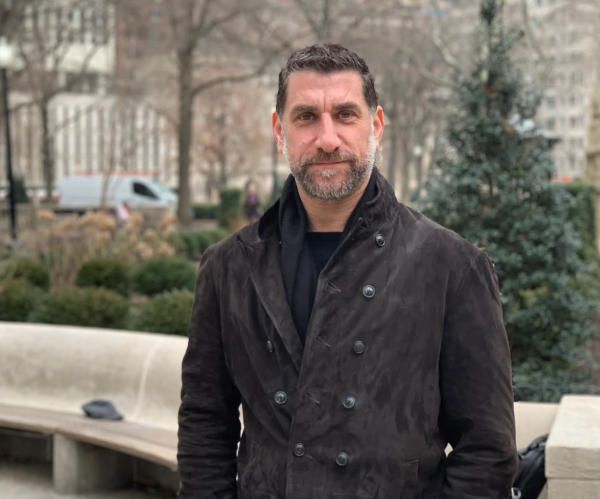 David Borgenicht has thus far survived rattlesnake, bear, and mountain lion encounters (well, viewings anyway), muggings, con artists, and his own teenage children. He lives in Philadelphia and is the founder of Quirk Books.
About Worst Case Scenario
Danger! It lurks at every corner.
Quicksand. Sharks. Cyberbullies. Super-Flu.
From wrestling an alligator to evading drones to landing a plane if the pilot passes out, The Worst-Case Scenario Survival Handbook is here to help with expert, illustrated, step-by-step instructions for life's sudden turns for the worst. Needed now more than ever, this revised and expanded edition—published on the international bestseller's 20th anniversary—delivers frightening and funny real advice readers need to know fast.
With crucial information added from across the Worst-Case series and 20 all-new scenarios for twenty-first-century threats (extreme weather, "fake news," dropping a cell phone in the toilet), this action-packed hardcover handbook brings emergency instruction for anxious times.
This week's Art of Conversation is brought to you Baby Shusher.
Baby Shusher a revolutionary new tool for parents to help soothe your fussy baby. Baby Shusher uses a natural, rhythmic shushing sound to break the crying cycle and engage baby's calming reflex to lull them to sleep. Its 15 to 30-minute adjustable timer and long-lasting battery provides long shushing sessions that will get even the most resistant babies to sleep. Its removable strap allows you to use while holding baby or tether it to a stroller or car seat, making it ideal for travel. Forgot your Baby Shusher? Baby Shusher has an App for that! It has comparable features and a built- in sound equalizer that allows the app to listen to your baby every 3 minutes and adjust the shush volume accordingly. For more info visit www.babyshusher.com.
About The Art Of Conversation Podcast
If you are looking for more of these types of podcasts check out the rest of the The Art Of Conversation Podcast
We are pleased to have another podcast here at Life of Dad, and we focus the show on dad writers. Each week, host Art Eddy showcases a father in the dad community. The topics range from sports to movies to comics to video games to technology to parenthood to anything that comes up, really. Absolutely nothing is off-limits on The Art Of Conversation Podcast. Enjoy! Find us on iTunes, Google Play, Stitcher Radio and iHeartRadio.