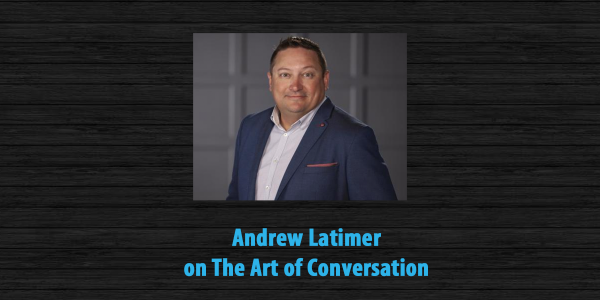 Andy Latimer is this week's guest on The Art Of Conversation Podcast.
On The Show
Andy Latimer talks with The Art Of Conversation Podcast host, Art Eddy about his fatherhood and when he and his wife were expecting a child they decided to create their own business. Andy shares with Art about how running a business is a great parenting tool. Andy and Art talk about the values Andy looks to instill into his kids and finishes the interview with the Life of Dad Quick Five.

About Andy Latimer
A visionary, Andy Latimer is a proven director/producer with 20+ years of experience in the television and film industry. He can take a client's vision and create a story worth telling — making that vision a reality. Latimer's storytelling ability crosses genres and categories delivering past, present and future clients results in sales by eliciting a response directly from consumers.
As CEO and founder of Clearwater, Florida-based Bluewater Media, Latimer is a true market leader. After launching Bluewater in 2000, he led the way in creative and production, being the first ever end-to-end, fully digital studio in the State of Florida. As the market shifted, he led Bluewater Media through the evolution in direct-to- consumer strategies, becoming an expert in the digital, social media and influencer marketplace.
About The Art Of Conversation Podcast
If you are looking for more of these types of podcasts check out the rest of the The Art Of Conversation Podcast
We are pleased to have another podcast here at Life of Dad, and we focus the show on dad writers. Each week, host Art Eddy showcases a father in the dad community. The topics range from sports to movies to comics to video games to technology to parenthood to anything that comes up, really. Absolutely nothing is off-limits on The Art Of Conversation Podcast. Enjoy! Find us on iTunes, Google Play, Stitcher Radio and iHeartRadio.