Curtis Armstrong, Mark Steines and Paul Greene are this week's guests for the Life of Dad Show Remix.
This episode of The Life of Dad Show Remix takes a look at three dads who you have seen on TV or in the movies. We talk with Curtis Armstrong, Mark Steines and Paul Greene These interviews were from previous episodes of The Life of Dad Show and highlights their conversations on fatherhood. Leave a review on iTunes or wherever you download the podcast for a chance to win a Life of Dad prize pack!
Believe it or not actor Curtis Armstrong has been in the entertainment business for over thirty years. Fans of his work know him from his roles in Ray to his most iconic and memorable role as Booger in Revenge of the Nerds. Along with his fantastic career Curtis is a loving father. He was able to be the primary caregiver when his daughter was young. Curtis and I talk about that along with his other thoughts on fatherhood.
Follow Curtis on Twitter at @curtisisbooger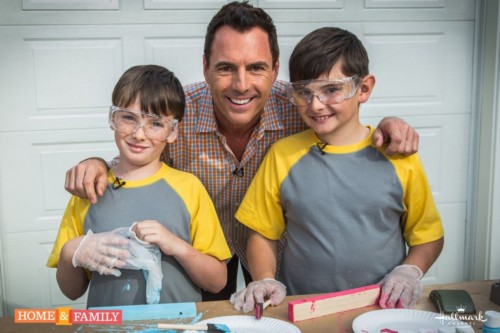 Mark is known for his more than 17 years on Entertainment Tonight. Steines established a mentorship program with his alma mater, equipping students with the tools necessary to successfully transition from the classroom to a career. An avid hands-on do-it-yourself guy, Steines enjoys spending his free time fixing, remodeling and restoring all things in disrepair. Mark lives in Los Angeles, California with his wife, acclaimed children's book author Julie Steines, his two sons, Kai and Avery, daughter Parker Rose, their dogs Fred and Norbert.
Mark on Twitter at @MarkSteines.

In 2005, Paul Greene's passion for acting brought him to Los Angeles. After studying in New York at Stella Adler, Uta Hagen's HB Studios, and Susan Batson's Black Nexxus, Paul's commitment to developing his craft continued in Los Angeles at Improv Olympic West and the Actor's Circle Theater and in work with, Nicoli Guzov, and Sandy Marshal. Paul has starred in Do No Harm with Lauren Holly, and appeared in Sofia Coppola's Somewhere. He lives in Los Angeles with his son, Oliver.
Follow Paul on Twitter at @paulgreenemedia
For more shows like this check out The Life of Dad Show.