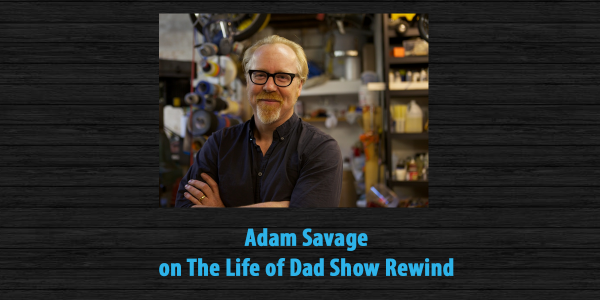 Adam Savage is this week's guest on The Life of Dad Show – Rewind Edition
On The Show
The Life of Dad Show, host Art Eddy shares an interview he did a few years back with Adam Savage. The guys talk about fatherhood, his hit show Mythbusters and some of the values he looks to instill into his kids as they grow up.

About Adam Savage
If you ever have watched Mythbusters you know that the show's co-host Adam Savage has a deep passion for science. He and his partner in crime, Jamie Hyneman, along with the rest of the Mythbusters crew created a show that millions of people watched.
Savage is a modern day "Renaissance Man." Not only is he heavily involved in science, but Adam had a love for the arts. In his free time he sculpts and has had his work on display in San Francisco, New York and Charleston, West Virginia.
Adam has done special effects work from notable films and TV shows. He has worked on props for films like Star Wars Episode I: The Phantom Menace, Star Wars Episode II: Attack of the Clones, Galaxy Quest, and Terminator 3.
Even with all the hats that Adam wears he makes sure that he is a devoted father. He has twin sons, which he affectionately calls "Thing 1" and "Thing 2."
Follow Adam on Twitter at @donttrythis.
About The Life of Dad Show
The Life of Dad Show is the multimedia flagship property of the world's largest network for fathers. With 600,000 downloads of its popular podcast and 300,000+ viewers of the Facebook Live show since 2017, The Life of Dad Show has gathered advice, stories and strategies from an unparalleled list of household names, from Shaq to Jim Gaffigan, to Michael Strahan and Mark Hamill, each offering a glimpse into their personal life as a dad. The show airs Mondays and Wednesdays on Facebook Live, YouTube and Instagram TV. The podcast comes out weekly.
Subscribe to The Life of Dad Show on iTunes and leave a review and you could win a Life of Dad prize pack.