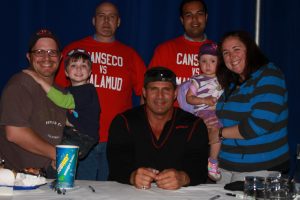 Jose Canseco, for lack of a better word, is an ass. Everybody knows the stories of how he used performance enhancing drugs and then also wrote a book, selling his former teammates down the river.
The drugs part was an error in judgement, that he owned up to, and would have faded with time. The book however, was a money grab and in my opinion, had nothing to do with wanting to help clean up the game.
All that being said, it's easy to see that Jose Canseco is not someone you would want to use as a role model for your kids.
Well, I found out last week that hating on an athlete/celeb is easier said than done. While taking my kids to buy new shoes for summer, I noticed a sign on the mall billboard that read "Jose Canseco Meet & Greet 5-7pm". It was 6pm.
No way, I thought! Why would Jose Canseco be at out little mall to sign autographs? It didn't make any kind of sense. Did he have a new book he was promoting? Did he get a job at the Foot Locker or A&W?? What is he doing here!?
I rushed my family quickly into the mall to see what was going on. There was a weird excitement building inside of me and I couldn't quite figure out why. After all, I was never a huge Canseco fan. I liked him when he played for the Blue Jay and also during his Bash Brothers years, which a whole different punchline now.
I think it was just the thought of meeting an athlete who, for a time, was larger than life in his sport. Plus I knew it meant a wicked photo opportunity for my family. You only get to meet a handful of celebs when you live in a small town and after the Wiggles, this would top the list.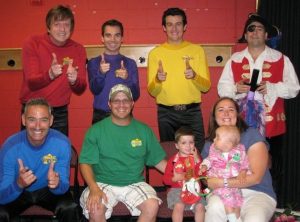 As it turns out, Canseco turned out to be a pretty cool dude. He greeted my family and gave my boy a high five. He then tried to convince my daughter to chant Jose, Jose, which was pretty funny. He shook hands with my wife and I and posed for an awesome family photo. I even got a signed mini bat.
The best part about all of it was the reason why he was there. An Ottawa Beer League softball player jokingly tweeted to Canseco, challenging him to a Home Run Derby to support Autism Awareness. Canseco accepted, waived his appearance fee and not only showed up, but put on an incredible show for the fans and kids!
He may be an ass to his former teammates and baseball fans, but he gained a few new fans out here that day. For his work with Autism, his love for helping kids and his Twitter awesomeness, for this one day at least, I can say Yes Way, Jose!
Cheers!!
Chris Read is the owner and writer of the blog Canadian Dad. Please feel free to stop by to say hi and/or follow on Twitter or Facebook