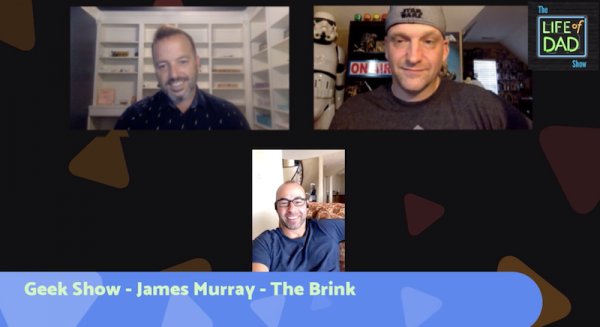 James Murray from Impractical Jokers joins the Geek Show
On The Show:
The Geek Show hosts, Art Eddy and Patrick Quinn talk with the one and only James Murray aka Murr from Impractical Jokers to talk about his new book, The Brink, Impractical Jokers and more!
Here is what some of our viewers said:
Jean-Paul Mosquera · Q for Murr: You seem to love Horror. What is your current favorite horror movie(s) or series to watch?
Kelly Clark
thanks for all the laughs guys……..the punishment with "Winnie Cooper" was the best.
Jason Gabriel
Love you guys!!! My whole family loves you guys. Tell Sal to chill out – he's looking angry
Joe Haskett
Do another buffet show. That was freaking hilarious!
About The Geek Show Hosts:
Art Eddy
Art Eddy is one of the co-founders here at Life of Dad. He hosts and produces all of the Life of Dad podcast as well as hosting a few Facebook Live Shows on the Life of Dad Facebook page. He is one of the main writers on the site. Art loves Star Wars, football (49ers fan), baseball (Red Sox fan), Air Jordans and all things Geek.
Patrick Quinn
Patrick Quinn is one of the co-founders here at Life of Dad. He is one of the funniest writers here at Life of Dad. He has a weekly article called Playlist Elevated where he introduces you to bands that you might not know, but totally should.
For more on The Geek Show click here.