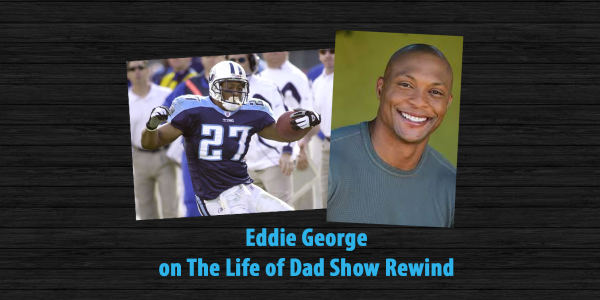 Eddie George is this week's guest on The Life of Dad Show – Rewind Edition
On The Show
The Life of Dad Show, host Art Eddy shares an interview he did a few years back with Eddie George. Art had a great talk with Eddie about fatherhood, acting and his time in the NFL.
About Eddie George
Eddie George had an impressive career in the NFL. He is only the second NFL running back to rush for 10,000 yards while never missing a start, joining Jim Brown. Only Walter Payton has started more consecutive regular-season games than George's 128. In addition to the Heisman Trophy, George won several NFL Rookie of the Year awards in 1996, and was the Tennessee Titans' starting tailback until 2003. George won the 1997 AP's "Offensive Rookie of the Year" honors as well as four consecutive trips to the Pro Bowl from 1998-2001. He was selected in the first round by the Houston Oilers/Tennessee Titans. Eddie led the AFC Champion Titans to Super Bowl XXXIV in 2000.
Eddie didn't stop challenging himself after he left the NFL. He received his MBA from the Kellogg School of Management at Northwestern University in Chicago. He is also an actor and most importantly a father.
Follow Eddie on Twitter at @EddieGeorge2727
This week's Life of Dad Show is being brought to you by Dream Catcher.
Nearly 10,000 children a year, under the age of 2 are treated in emergency departments for crib related injuries. With the most common cause of injury caused by falling from the crib, parents are looking for a solution they can turn to. Dream Catcher is an inflatable bumper that surrounds your baby's crib and provides a safe way to reduce the likelihood of serious injury without restricting your child. With eight inflatable sections that surround the crib, it can be configured to any nursery layout. To learn more please visit www.safell.org
About The Life of Dad Show
The Life of Dad Show is the multimedia flagship property of the world's largest network for fathers. With 600,000 downloads of its popular podcast and 300,000+ viewers of the Facebook Live show since 2017, The Life of Dad Show has gathered advice, stories and strategies from an unparalleled list of household names, from Shaq to Jim Gaffigan, to Michael Strahan and Mark Hamill, each offering a glimpse into their personal life as a dad. The show airs Mondays and Wednesdays on Facebook Live, YouTube and Instagram TV. The podcast comes out weekly.
Subscribe to The Life of Dad Show on iTunes and leave a review and you could win a Life of Dad prize pack.