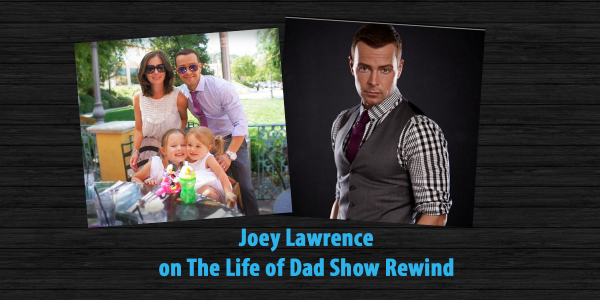 Joey Lawrence is this week's guest on The Life of Dad Show – Rewind Edition
On The Show
The Life of Dad Show, host Art Eddy shares an interview he did a few years back with Joey Lawrence. Art was able to chat with Joey about the show, his career, working with his brothers, and fatherhood. Joey and his wife are blessed with two lovely daughters. Art enjoyed hearing Joey's take on his most important role, which is being a dad.

About Joey Lawrence
Joey Lawrence has been on some well-known TV shows. He first began working at age six on the hit show Gimme a Break.Then he was on Blossom, which was another hit series. Lawrence, who is always looking to improve his craft, successfully made the transition from teen icon to a legitimate actor. Today he continues to build on his incredible resume. From movies to TV shows to performing on stage Joey is always hard at work.
Follow Joey on Twitter at @joeylawrence.
About The Life of Dad Show
The Life of Dad Show is the multimedia flagship property of the world's largest network for fathers. With 600,000 downloads of its popular podcast and 300,000+ viewers of the Facebook Live show since 2017, The Life of Dad Show has gathered advice, stories and strategies from an unparalleled list of household names, from Shaq to Jim Gaffigan, to Michael Strahan and Mark Hamill, each offering a glimpse into their personal life as a dad. The show airs Mondays and Wednesdays on Facebook Live, YouTube and Instagram TV. The podcast comes out weekly.
Subscribe to The Life of Dad Show on iTunes and leave a review and you could win a Life of Dad prize pack.