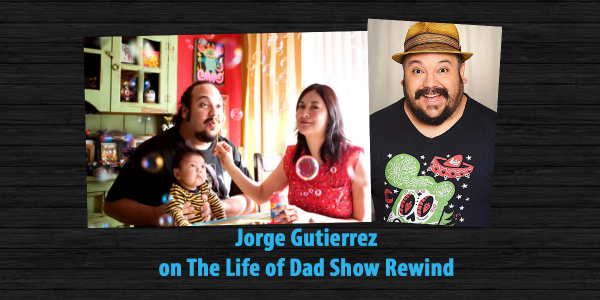 Jorge Gutierrez is this week's guest on The Life of Dad Show – Rewind Edition
On The Show
The Life of Dad Show, host Art Eddy shares an interview he did a few years back with Jorge Gutierrez. Art talks with Jorge about The Book of Life and fatherhood as well. You will see how much love and thought Jorge put into this film. If you are looking for a family friendly and entertaining movie I would strongly suggest that you pick up The Book of Life. Click here to purchase the film.

About Jorge Gutierrez
Jorge Gutierrez is the director of the wildly popular film The Book of Life. Since he was a young boy he would borrow his father's video cameras to make his own movies. Now as a father himself, Jorge looks to work with his son once he gets a bit older on making their own cartoons.
Gutierrez worked with producer Guillermo del Toro on The Book of Life. The film follows the journey of Manolo, a young man who is torn between fulfilling the expectations of his family and following his heart. Before choosing which path to follow, he embarks on an incredible adventure that spans three fantastical worlds where he must face his greatest fears. Rich with a fresh take on pop music favorites, "The Book of Life" encourages us to celebrate the past while looking forward to the future.
Follow Jorge on Twitter @mexopolis.
This week's Life of Dad Show is being brought to you by Oak City Greetings.
You need to check out Oak City Greetings and their Sweetheart Card Collection. This set of cards will make your life simpler. Save time, save money and save your backside. How? With their card set that has two of everything. From Birthday cards to Anniversary cards to Valentine's Day cards, you will be prepared for 2 years with this set. For more info go to oakcitygreetings.com.
About The Life of Dad Show
The Life of Dad Show is the multimedia flagship property of the world's largest network for fathers. With 600,000 downloads of its popular podcast and 300,000+ viewers of the Facebook Live show since 2017, The Life of Dad Show has gathered advice, stories and strategies from an unparalleled list of household names, from Shaq to Jim Gaffigan, to Michael Strahan and Mark Hamill, each offering a glimpse into their personal life as a dad. The show airs Mondays and Wednesdays on Facebook Live, YouTube and Instagram TV. The podcast comes out weekly.
Subscribe to The Life of Dad Show on iTunes and leave a review and you could win a Life of Dad prize pack.