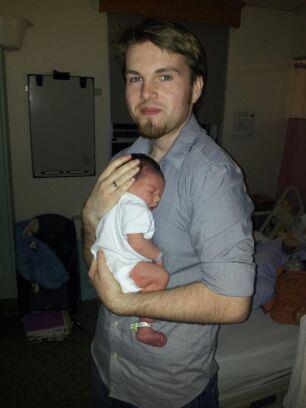 Gabriel was born on the first day of Spring, three days after his due date. I can't help but believe this wasn't a coincidence. Since his birth, there really has been new life injected into all those around him. He's so small, but has impacted our lives in such a big way.
As time goes on, I will have a better understanding of just how much he has changed my life, but for now, I'd like to share a bit of my experience so far, 5 days in.
Sleep is hard to get. Gabriel loves to pass out the whole day, except for feedings, and then stay awake from 1 am to about 6 am. Thankfully, his Grandma is around to give us a hand and allow us to get a little bit of extra rest.
We spent a bit of time in the hospital, and it wasn't until we were back in our own environment that things started to get more real. It still hasn't fully clicked yet that I'm a father. This sort of change doesn't just register automatically. It takes time for it to mature and sink in. It's too profound to be understood all at once.
Sort of how you never quite understand to always place a barrier between yourself and his pee-launcher until you've been soaked a couple times, or to always support his neck and head until the muscles develop. There are so many things to remember and understand, and when I do, things will exist in a fluid state of balance.
Once Gabriel was born, I surged forward into Daddy-mode. That's great, but now I'm trying to reach back into the past and pull out all the best parts of me and equate them into this balance I'm trying to achieve.