While the act of riding a bike may not be difficult to some, there are hazards of which new riders should be aware. Whether you are cycling as a hobby, or sharing the enjoyment with your family, a basic understanding of potential hazards is paramount.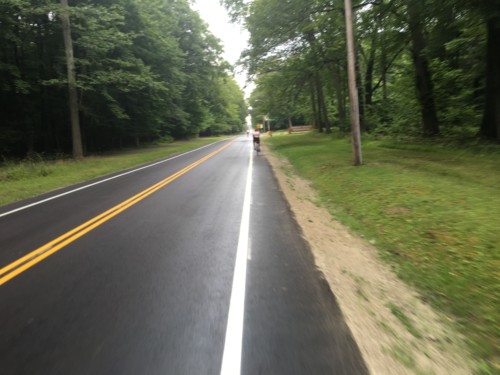 When I reminisce about riding my bike as a kid, I remember the breeze, the freedom, and the open roads. But there is way more to consider when you take to the road. Now that I have been riding around with KITT, there are a number of lessons I have learned (or relearned) about road safety. Here are 6 factors to consider before your tires hit the street.
Road Kill
I know it sounds funny, but that dead squirrel, raccoon, possum, or whatever that was can not only propel you to an encounter of the concrete. It can also damage your bike without injuring you. Keep your eyes peeled, head on a swivel, and all those other clichés on the road and what may lay on it.
Potholes
Again, this is a scenario where you could potentially do some damage to your bike and/or cause you personal injury. The large cracks or holes in the road can sneak up on you in a heartbeat, and, if you aren't vigilant, can swallow your tire, or tip your bike. It is prudent to be mindful of areas along the side of the rode, but to also watch for puddles that may be hiding larger crevices.
Road Construction
Whether you cruise the sidewalks or roll on the streets, it is important to be aware of any road construction. While that may sound simplistic, construction hazards can include – narrowed streets, closed sidewalks, debris, gravel, or a change in traffic patterns. Be sure to look for the signs – signs (literally), cones, barrels, trucks, etc.
Road Conditions
Gravel was already mentioned, but there are a number of other obstacles that you could discover on the road. Honestly, it was the most consistent hurdle that was identified during my group rides. However, slick roads, branches, discarded trash, etc. can all be found in the streets. Avoid riding over these items and watch your speed as you navigate,
Pets
This seems silly, but be mindful of pets – specifically dogs. Depending on where you are riding, you may encounter loose dogs or dogs on leashes. Leashed or not, friendly or not, dogs can surprise you right off of your bike. When you are passing a person walking a dog, be sure to give enough room to safely pass, and, if you can, find a way to alert the dog walker (bell or voice) so that they can be aware of your presence and maintain their control of the dog. If you happen to come across a pet llama on the road – watch out for spit.
Traffic
Last, but not least, always be aware of vehicles. Again, it doesn't matter if you are riding in the streets or on the sidewalk, be aware of any oncoming traffic. This can include cars backing out of =, or pulling into, driveways. One aspect of traffic safety is making sure that cars can see you through the use of safety lights, reflective clothing, a bike bell, and/or the use of hand signals to announce turns. In this case, safety can be a two way street, so make sure you do your part.
While there are many hazards on the road (or sidewalk), being aware of the possibilities helps to ensure a safer experience on the road. Like they used to say on G.I. Joe "Knowing is half the battle." The more you are aware of as a rider, the safer your experience will be.
Now head out and enjoy a smooth ride alone – or with the family.
Disclosure: While I was not compensated for this post, Performance Bicycle did send me a bike and product to review which I will continue to do in upcoming posts as I continue to enjoy and explore this new old hobby. As always, my thoughts and words are my own.